Managing Post-Polio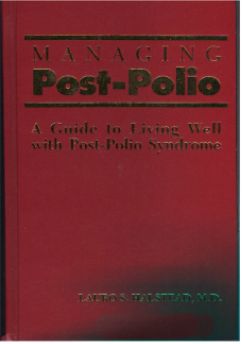 A Guide to Living Well With Post-Polio Syndrome
by Dr. Lauro S. Halstead
ISBN 1-886236-17-8 * 256pp * 6 x 9 * Hardcover * Illustrated * Index * $25.00
Highly recommended for all consumer health and public library collections.
Starred review Library Journal
...nontechnical but meticulously detailed...An extremely useful work , directed at specific audiences: polios and their families and medical and social welfare personnel who deal with polios.
Choice
We are pleased to offer this all new professional reference guide to living well with post-polio syndrome from our sister company, ABI Professional Publications. Edited by Lauro S. Halstead, M.D., Managing Post-Polio provides a comprehensive overview on dealing with the medical, psychological, vocational, and many other challenges of living with post-polio syndrome. Written by 20 authorities in their fields, the majority of whom are polio survivors themselves, Managing Post-Polio distills and summarizes the wealth of information presented at conferences and published in the medical literature over the past 15 years. This information is supplemented with personal stories of seven individuals who provide eloquent testimony to the many ways people have prevailed in the face of ongoing disability.
Managing Post-Polio was written by healthcare professionals who work with and counsel patients with post-polio syndrome and who need an up-to-date and quick reference, as well as a guide to living well for persons who have had polio, their families, friends, and loved ones.
To order from within the United States, please call 800-551-7776. To order from outside the United States, please call 727-556-0950
or
email us at orders@vandamere.com
Please see the link at the left of the screen for ordering and shipping information.